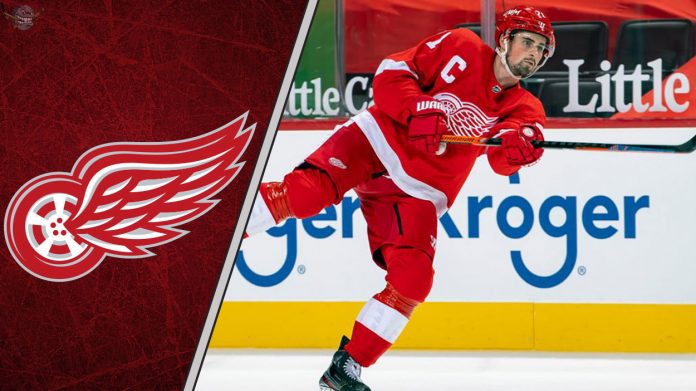 With the Detroit Red Wings set to start the regular season next week, NHL trade rumors are starting to pop up that the Detroit Red Wings could look to trade their star forward Dylan Larkin at some point this season.
Larkin will be a UFA next summer and with no new contract on the horizon and with Mathew Barzal signing a whopping eight-year, $73.2 million contract extension, the Red Wings do not want to commit $9-$10 million AVV to Larkin. This is leading to speculation that Red Wings management may shop Larkin to build up on draft picks and top prospects instead of re-signing him.
Frank Seravalli is predicting that Larkin will be traded before the 2023 NHL trade deadline. He does own a no-trade clause but would likely waive it to play for a playoff contending team.
Leafs, Devils, Blue Jackets will be interested in a Dylan Larkin trade
Toronto Maple Leafs
The Toronto Maple Leafs are all in this year and when the trade deadline comes, they will find a way to add a big name player to play in the top 6.
This offseason the Leafs were rumored to be in on a Patrick Kane trade and that may still happen. But plan B will be Dylan Larkin.
If the Leafs want to land Larkin, they will have to get a 3rd team involved to make his Red Wings salary cap hit work.
New Jersey Devils
The New Jersey Devils feel they are a playoff contending team and if they are in playoff contention when the trade deadline approaches, they will be all over Dylan Larkin.
The Devils have the assets to make a Larkin trade and will likely find the cap space to fit Larkin's $6.1 million cap hit into the team's budget.
Columbus Blue Jackets
Like the Devils the Columbus Blue Jackets see themselves as a playoff contending team. GM Jarmo Kekäläinen is not afraid to make a big move, and if Larkin is available, Columbus will be making a call to GM Steve Yzerman.
---
Besides the three teams listed above, there will be other teams wanting to make a trade for Larkin. He will be a hot commodity come trade deadline time.
If all reports are true and that the Red Wings and Larkin are no where close to a new deal, you can expect more Larkin rumors to pop up as the season moves along.