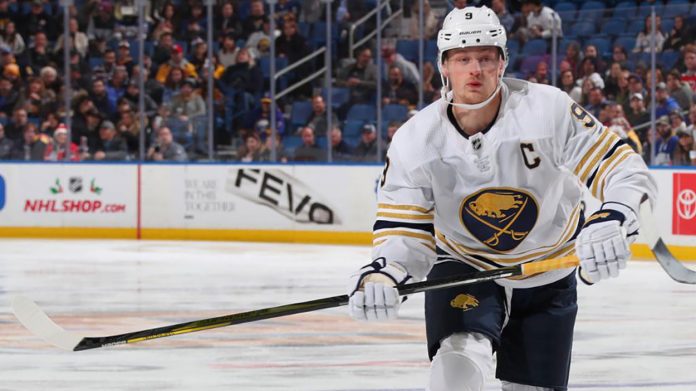 The Minnesota Wild are still looking to make some trades this summer to improve the forward group. The Wild have been interested in making a trade for Jack Eichel since the Eichel rumors started.
Even after buying out Zach Parise and Ryan Suter, the Wild still have the salary cap space to make a trade for Eichel. Dane Mizutani of TwinCities.com reports if a trade for Buffalo Sabres star Jack Eichel was going to happen, it probably would have already. Still, the Wild have been right in the middle of the sweepstakes this offseason, and if the asking price comes down, Guerin will throw his hat in the ring.
What the Wild have to be careful of if an Eichel trade is to happen is the buyout cap hit of Parise and Suter in the coming years. The two veterans will leave the Wild with a cap charge of nearly $13 million in 2022-23 and close to $15 million in the following two years. 
Minnesota still has some stiff competition for Eichel as NHL Rumors have the Anaheim Ducks, Montreal Canadiens and New York Rangers still hoping to make a trade for the disgruntled star.
Jack Eichel spotted on the ice in Boston on August 3, 2021 and looking like he is moving pretty good.
A #jackeichel sighting here in Boston today…ripped a couple to make all ooooo & ahhhhh! @SabresProspects @LLysowski pic.twitter.com/LJwxjNr7vH

— OverSpeed Hockey (@overspeedhockey) August 3, 2021