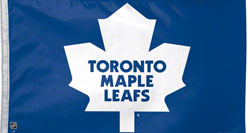 When the Toronto Maple Leafs traded Tuukka Rask to the Boston Bruins for Andrew Raycroft on June 24, 2006, that told everyone former GM John Ferguson Jr was not a true General Manager and had no balls.
The Leafs also had goalie Justin Pogge who had just won a gold medal at the World Junior Championships but everyone knew Rask was the better goalie. If anyone paid attention to the World Juniors, Rask was making 50 saves a night and he was named best goalie of the Tournament and not Pogge.
The Boston Bruins would have taken Pogge instead of Rask but Ferguson Jr. was so afraid of the media and backlash if he were to trade the gold medal goalie that he shipped Rask to Boston instead of Pogge.
Not to take anything away from the season James Reimer had this year but Rask is a goalie that comes around once every ten years. Rask has lead the Bruins to the Stanely Cup final this year…. what could have been for the Leafs….
Tuukka Rask Toronto Maple Leafs Justin Pogge