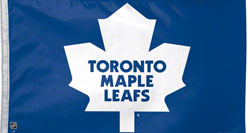 The Toronto Maple Leafs have traded for goalie Jonathan Bernier in exchange for forward Matt Frattin, backup goaltender Ben Scrivens and a second-round pick in either the 2014 or 2015 NHL Entry Draft..
Bernier, stuck behind Jonathan Quick with the Los Angeles Kings, wanted to play more. The Leafs, according to GM Dave Nonis, were interested in upgrades at any position.
"I think it's incumbent upon every team to look at what's available and if there is an ability to improve you look to do it," Nonis said last week after the GM's meetings in Boston.
Jonathan Bernier trade rumors