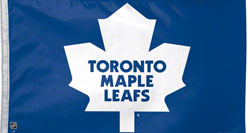 Toronto Maple Leafs goalie James Reimer denies that there is a feud with head coach Randy Carlyle. But from Reimers quote below, there was a disagreement, Reimer knows his name has been in the trade rumor circle so he knows there is a great chance he will be traded at the trade deadline. Reimer is getting frustrated and a trade would be the best thing for him.
Reimers quote below was from last week when he was pulled from the Detroit game:
We're both competitive people. I compare it to two guys fighting in practice. Both guys care, both guys are intense, both guys want to win. And then it's over.
Look around the league," he said, smiling. "There are plenty of goalies who don't agree with their coach all the time. I haven't talked to Randy about it, but I think he probably liked (my reaction). I'm a competitive guy and I thought I could lead us to a win. He obviously didn't agree. It happens.
James Reimer Feud with Randy Carlyle