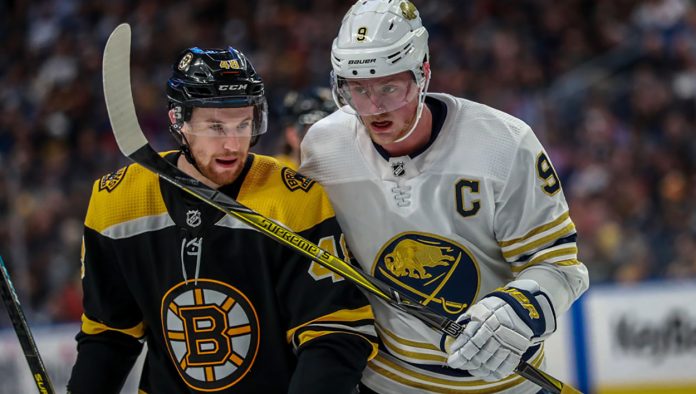 NHL Trade Rumors have been circulating that Jack Eichel is unhappy in Buffalo and seeking a trade. Trade rumors had the New York Rangers interested in Eichel, now there are rumblings that the Boston Bruins are checking in on the availability of Eichel.
The Bruins inquired about Eichel earlier this offseason. But do they have what it takes to create an appetizing offer for the star center?
The Sabres would probably ask for Charlie McAvoy as part of a package but rumors are the Bruins aren't trading him, even for someone as great as Eichel.
For a trade to happen, the Sabres would likely have to receive Boston's 2022 1st round pick, Jake DeBrusk and Matt Grzelcyk and that package might not be even enough as the Sabres will likely want to receive a blue chip prospect.
The Sabres currently sit tied for last place in the league with the Ottawa Senators and likely not to make the playoffs. As the offseason approaches, more Eichel rumors will surface. Right now, I do not see the Bruins landing Eichel as they just do not have a Kaapo Kakko or Alexis Lafrenière to offer the Sabres in a trade.