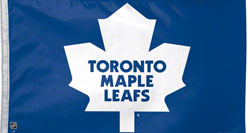 The Calgary Flames are in need of a goaltender and with the recent addition of Brian Burke who is familiar with James Reimer, GM Jay Feaster will be contacting Dave Nonis on the asking price for Reimer.
The Oilers and Maple Leafs held several trade discussions last year, but were not able to make a deal. The Maple Leafs are looking at center Sam Gagner. If a deal cannot be worked out for Gagner, expect the Leafs to target Paul Statsny.
There are some rumblings that Dion Phaneuf could be in play. GM Dave Nonis has said he'd trade just about anyone.
Toronto Maple Leafs Trade Rumors Maple Leaf Trades