Everyone and their dog knows memes and cat videos rule the internet. So, seeing how we love hockey, we figured why don't we combine the best of both worlds and bring you a collection of some of the best NHL memes we could find on the web?
Some of the memes we have for you are old but gold, while others are a tiny bit offensive. Some are even straight-up hurtful, especially if you're a fan of Toronto's Maple Leafs.
However, one thing is for certain—most of them will brighten up your day and might even make you laugh.
Sports Betting Ads
As explained by LegalBet Canada, betting requires a lot of responsibility and consciousness. It can also be fun and exciting, even more so if you land the bet, which is just one of the reasons sports fans like betting.
But if there is one thing we don't like then it's sports betting ads during intermissions—there are just too many of them!
Legally Blind
This one came straight from Reddit with the caption "Legally blind fan here, this is how I watch games."
And yes, in case you're wondering, that's a referee's point of view.
Meddling Toronto Maple Leafs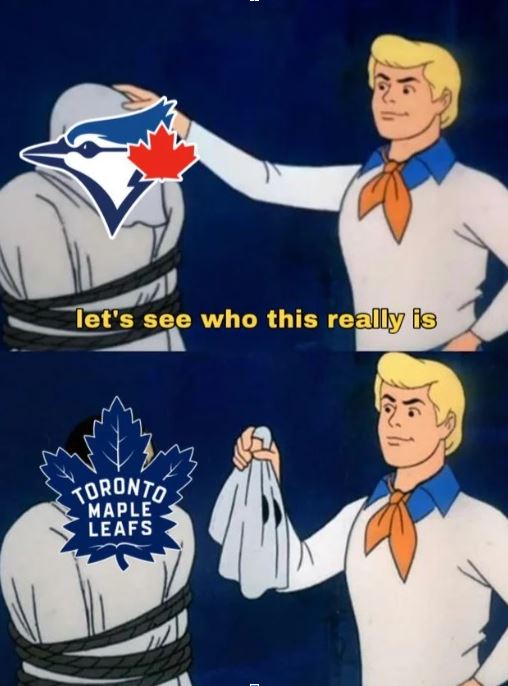 Maple Leafs are often the victim of every joke whenever a team's performing badly, and not even baseball teams are safe from being placed in the same league as Leafs.
They could have almost gotten away with it, too, if it wasn't for those meddling memes.
Scary NHL Eastern Conference
The East sure looks like a dominant division this year. Maybe some of the teams in the West division could hire Rick and Corey for the next NHL trade deadline.
Phoebe and Joey Know Best
Virtually everything Joey Tribbiani does is an instant hit, even if it was made quickly.
Two Statues, No Winners
Apparently, the Kings were trying to tell the world that Dustin Brown is a bigger sports superstar than Cristiano Ronaldo by displaying a statue that can rival Ronaldo's.
The joke's on them, though, the CR7 bust is way worse.
A Mean Dog
Well, we did warn you that some of the memes are straight-up hurtful.
Excuse the Pixels
There are two things you can count on your fingers: the number of pixels on this meme and the number of times a game between the Panthers and Senators disappointed.
Rumor has it that the Senators are interested in a Seth Jones trade, so with any luck, the games between the Sens and the Panthers are about to get even fiercer.
Devil Wears Goalie's Kit
For clarification, we're talking about defense over here.
The World In Flames
Cool guys don't look at explosions.
Old But Gold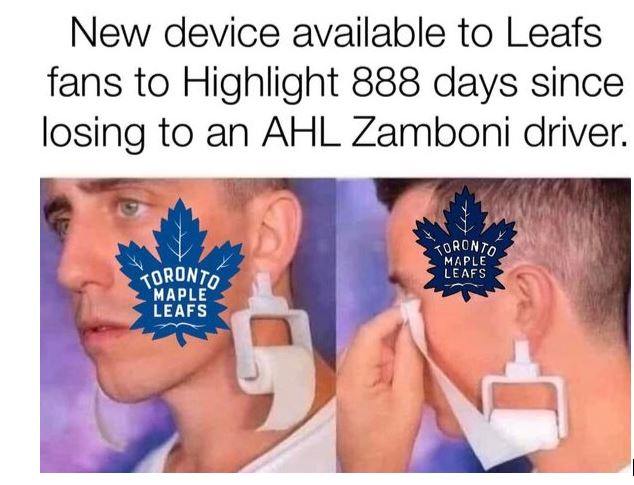 We're fairly certain the world is never going to let Leafs' fans forget this one.
Can't Drink Without Cups
Despite being voted an all-star goalie five times, Henrik Lundqvist retired in 2021 having never won the Stanley Cup. And now there's a meme about it on the internet.
Canadien Titanic
You know what, we're just going to say it—there was enough space for two on that raft. We hope the Canadiens can go on, at least.
Leafs Can't Score
No one:
Literally no one:
Maple Leafs: That's because the bed's too small, guys, right? Right?
A Love Tap
A goal is clearly a cause for celebration, but not when the puck ends up in your team's net. Alen Babic was having none of it and punched Henrik Eriksson in the face after Eriksson tried to celebrate a goal with him.
To make matters worse, Eriksson's team went on to lose the game 3-2. Talking about a one-two combination, eh?
The Wrap Up
There are millions of reasons we believe hockey is the best sport in the world. However, our passion for the sport sometimes gets the best of us and we end up taking hockey way too seriously.
Because of that, it is important to take a breather every now and then and remind ourselves why we fell in love with hockey in the first place and have a hearty laugh.
Hopefully, our small collection of the best hockey memes could do just that for you.