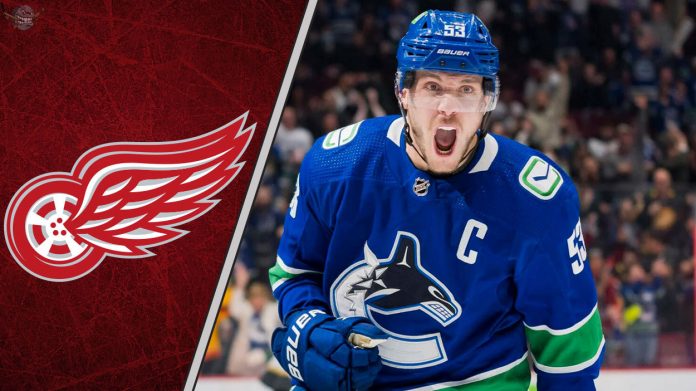 NHL trade rumors floated around in the offseason about Dylan Larkin moving on from the Detroit Red Wings. Wings management could have re-signed Larkin but they did not.
The Mathew Barzal contract signing did not help the Red Wings as Barzal signed a contract with an $9,150,000 AVV and that is what Larkin wants as that is a comparable contract.
Will Bo Horvat become a Detroit Red Wing?
Nick Kypreos has a piece on the Toronto Star and he states that the Vancouver Canucks picked J.T. Miller over Bo Horvat and that the Canucks management offered Horvat a low-ball contract this past offseason that was rejected by Horvat's camp.
Kypreos went on to say for everyone to keep an eye on the Detroit Red Wings. With Larkin's contract demands as high as what Mathew Barzal signed in Long Island, Detroit Red Wings GM Steve Yzerman could instead choose to spend a good portion of Larkin's money on a sign and trade for Bo Horvat.
When will a Dylan Larkin trade happen?
If reports are true and the Red Wings have no desire to pay Larkin a contract of over $9 million annually he will be traded at some point this season.
The Red Wings are likely not a playoff team so a Larkin trade will happen around the NHL trade deadline where Wings management can maximize their return on Larkin.
Sign up for our weekly NHL trade rumors newsletter