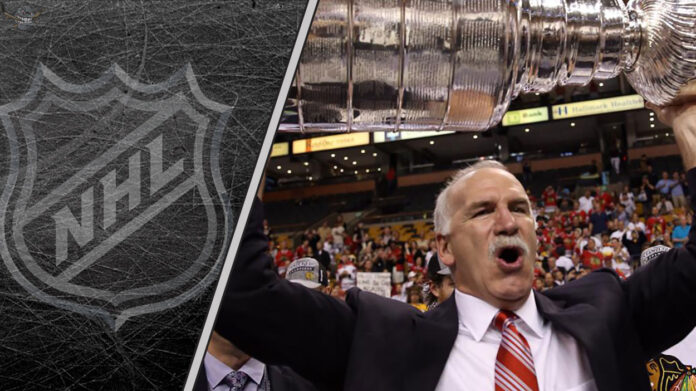 Joel Quenneville would like to get back into coaching in the NHL but he will have to get NHL commissioner Gary Bettman's approval for it to happen.
Why did Joel Quenneville resign from coaching?
Joel Quenneville resigned as head coach of the Florida Panthers last year after specifics were revealed of how the Chicago Blackhawks mishandled sexual abuse allegations by a video coach in 2010. Quenneville was the Blackhawks head coach when the alleged abuse occurred.
Which team will Joel Quenneville coach next?
If Joel Quenneville is indeed reinstated by the league, what teams would have interest in the three time Stanley Cup winning coach?
Toronto Maple Leafs
The Toronto Maple Leafs are playoff contenders but if they cannot get past the first round of the playoffs once again, you can kiss GM Kyle Dubas and coach Sheldon Keefe's job goodbye.
The next Leafs GM would have a serious interest in Joel Quenneville if he is reinstated by the league. He could be the coach to get the Leafs past the first round of the playoffs.
Vancouver Canucks
The Bruce Boudreau experiment is not working out in Vancouver. They will not fire Boudreau this year as they are still paying former head coach Travis Green.
Canucks management could look into a Quenneville hire next season in the hopes of finding a coach to get the Canucks over their struggles and into the playoffs.
Anaheim Ducks
The Anaheim Ducks sit last in the NHL will 11 points (5-11-1) in 17 games. They are all-in in the tank nation battle for drafting Connor Bedard #1 overall.
If the Ducks continue their horrid play and not getting out the production expected from Troy Terry, Trevor Zegras and Mason McTavish a coaching change will be in order in the offseason and Quenneville could be the coach to turn things around for the Ducks.
Sign up for our weekly NHL trade rumors newsletter