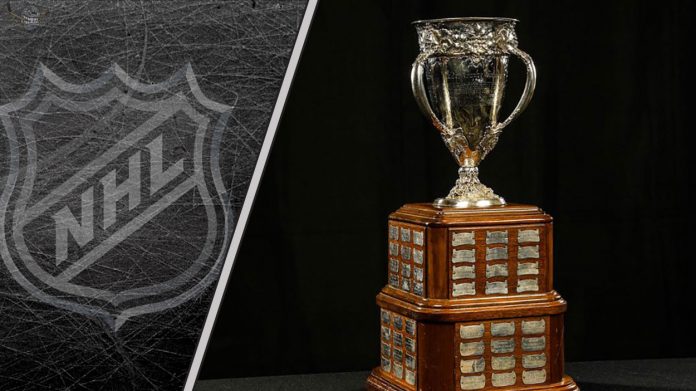 Who will win the Calder Trophy for the 2022-2023 NHL season? This trophy is always hard to predict as you never know how a rookie will adapt to the speed and skill of the NHL.
Buffalo Sabres defenceman Owen Power is the favorite to land the rookie of the year award, but there could be a dark horse player like Shane Wright or even Montreal Canadiens #1 overall draft pick Juraj Slafkovsky if he is given the chance on the top 6 in the Habs lineup.
Top Calder Trophy Candidates for 2022-2023
Owen Power, Buffalo Sabres
Owen Power is poised to put up a lot of minutes this year for the Buffalo Sabres.
Power, 19, who stands at 6'6″ and is an excellent skater for his size. He will make mistakes as a rookie, but his transition game is excellent.
He has a big enough shot to put points up on the powerplay and he will be a difference maker for the Sabres. This is the reason why we have him the favorite to win the Calder trophy.
Matthew Beniers, Seattle Kraken
Matthew Beniers, 19, is slotted to be the Seattle Kraken's #1 center this season and that should help him produce points to get considered for the Calder Trophy.
Beniers is a dynamic forward who can move the puck. He will be a great playmaker and if he can gel with his line mates, he will put up points.
Beniers is the best two-way player in this rookie class.
Mason McTavish, Anaheim Ducks
Mason McTavish,19, will have a great NHL career due to his size, skill, and compete level.
McTavish plays with the same grit as Calgary Flames forward Nazem Kadri and can put up points like Kadri.
If he plays in a top 6 role for the Anaheim Ducks and gets quality powerplay time, MacTavish will be in the hunt for rookie of the year honors.
William Eklund, San Jose Sharks
William Eklund, 19, who was drafted 7th overall by the San Jose Sharks in the 2021 NHL Draft should put up points for the Sharks if given the chance.
Eklund is a highly skilled offensive player who should be able to produce points at the NHL level.
If he ends up playing with one of Tomas Hertl, Timo Meier or Logan Couture he should challenge for the Calder Trophy.
Shane Wright, Seattle Kraken
Our dark horse pick is Shane Wright. He was pissed at not being drafted #1 overall and then being pass over by another two teams. He will have something to prove. At 18 years of age, he is the youngest in the contention for the Calder Trophy.
The problem Wright will have if he does make the Seattle Kraken is can he overtake his teammate Matthew Beniers for the Calder trophy?
Sign up for our weekly NHL trade rumors newsletter