It seems a lot of NHL fans are not happy with the Seattle Kraken unveiling their new mascot named Buoy. First reaction is disappointment from Kraken fans.
At first glance the Seattle Kraken mascot Buoy fits the color scheme of the Seattle Kraken and it appears the character is a troll.
It will likely take time for the fan base to warm up to Buoy. Remember the backlash Gritty got from Philly fans and the NHL in general. Now Gritty is the most popular mascot in the NHL and that is what Seattle is hoping to happen with Buoy.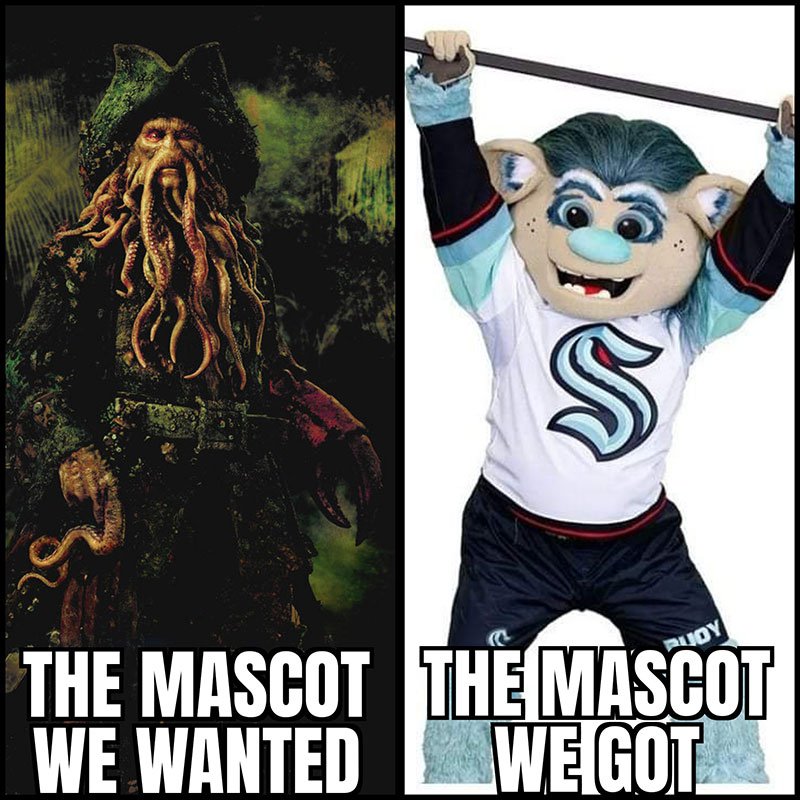 Why did the Seattle Kraken not choose a sea monster as a mascot?
Mascots are meant for kids and by selecting a sea monster as a mascot could scare away the children, and marketing to young fans is big business for the NHL, so the Kraken needed a more friendly face rather than a Davey like mascot from Pirates of the Caribbean as shown above.
Fans of the Kraken will just have to give it some time and the mascot will grow on the fan base. You think the Toronto Maple Leafs fan base was happy with Carlton the Bear when he made his debut back in 1995. Now he is part of the franchise and a hit with the kids.
NHL Mascot salaries
Doing some research online, we found NHL mascot salaries can range from 30K-60K USD / year. They are paid by game appearances.
Some MLB mascot salaries are insane. Here is what baseball mascots make.
| Mascot | Per Match Fees | Season Earnings | Team |
| --- | --- | --- | --- |
| Wally the Green Monster | $2,000 | $250,000 | Boston Red Socks |
| Phillie Phanatic | $1,500 | $200,000 | Philadelphia Phillies |
| Mr Met | $1,500 | $200,000 | New York Mets |
| The Oriole Bird | $1,500 | $200,000 | Baltimore Orioles |
| Lou Seal | $1,500 | $200,000 | San Francisco Giants |
| Homer the Brave | $1,500 | $200,000 | Atlanta Braves |
| Rangers Captain | $1,500 | $200,000 | Texas Rangers |
| Mr. Red | $1,000 | $160,000 | Cincinnati Reds |
| Mr. Redlegs | $1,000 | $160,000 | Cincinnati Reds |
| Rosie Red | $1,000 | $160,000 | Cincinnati Reds |
| Orbit | $1,000 | $160,000 | Houston Astros |
| Raymond | $1,000 | $160,000 | Tampa Bay Rays |
| D. Baxter the Bobcat | $1,000 | $160,000 | Arizona Diamondbacks |
| Dinger | $800 | $130,000 | Colorado Rockies |
| Pirates Parrot | $800 | $130,000 | Pittsburgh Pirates |
| Paws | $800 | $130,000 | Detroit Tigers |
| Sluggerrr | $800 | $130,000 | Kansas City Royals |
| Clark | $800 | $130,000 | Chicago Cubs |
| Billy the Marlin | $600 | $75,000 | Miami Marlins |
| Screech | $600 | $75,000 | Washington Nationals |
| Fredbird | $600 | $75,000 | St Louis Cardinals |
| Harry the Hawk | $600 | $75,000 | Atlanta Hawks |
| Mariner Moose | $450 | $65,000 | Seattle Mariners |
| Ace | $450 | $65,000 | Toronto Blue Jays |
| Stomper | $450 | $65,000 | Oakland Athletics |
| Swinging Friar | $450 | $65,000 | San Diego Padres |
| T.C. Bear | $450 | $65,000 | Minnesota Twins |
| Slider | $450 | $65,000 | Cleveland Indians |
| Bernie Brewer | $500 | $60,000 | Milwaukee Brewers |
| Southpaw | $500 | $60,000 | Chicago White Sox |