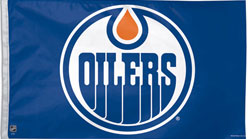 Two years ago, the Edmonton Oilers were so excited about their #1 overall pick in the 2011 NHL Draft that they put him on the roster from day one. He narrowly missed out on the Calder Memorial Trophy, but it was apparent that a future star was in the making. However, after battling through additional injuries in year two, is this the year the now 20-year old truly takes over the star reigns in Edmonton?
Many fantasy hockey owners expected Nugent-Hopkins to put in a great sophomore season, but then the lockout and injuries happened. It was nearly impossible to have a successful 2012-2013 campaign if there was any injury to overcome.
When healthy, Nugent-Hopkins has outstanding point-per-game ability. He is still learning to deal with the physicality of the NHL level, but a full preseason should allow him to get back on track and really become a man on the ice.
Edmonton's struggles as a franchise continue to build up. Despite putting together a pretty solid shortened season a year ago, they came up just short of the playoffs. Since losing in the 2006 Stanley Cup Finals, they have not been in the playoffs. Nugent-Hopkins has to become more of a leader for this team to reach their full potential. Fantasy hockey owners might not be convinced just yet that he is ready for a true breakout season, but the management for the Oilers feel that he is ready. If healthy, he could be a pleasant surprise and a future star in the making.