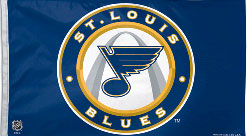 Patrick Berglund has agreed to a one-year contract extension with the St. Louis Blues.
No financial terms were disclosed, but reported it is worth $3.25 million for next season.
Berglund forward played all 48 games for the Blues last season, finishing second on the team in goals with 17, while leading the club in short-handed tallies with two. He also tied for the team-lead with three game- winning goals.
Berglund was taken by the Blues in the first round (25th overall) of the 2006 NHL draft.
Patrick Berglund Contract