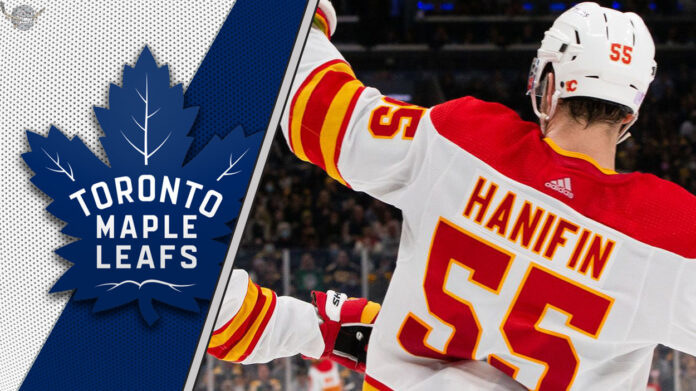 A ton of NHL trade rumors have circulated around the Toronto Maple Leafs this offseason as many fans have wondered what type of contract Auston Matthews will receive. Will the Leafs trade William Nylander and what will the return be?
The latest Leafs rumors have the team interested in a player GM Brad Treliving knows well and that is Calgary Flames defenseman Noah Hanifin.
Will Noah Hanifin be traded to the Toronto Maple Leafs?
William Nylander is seeking a contract extension worth $10 million a year next season and the Toronto Maple Leafs cannot take on a new contract of that size which is making Nylander expendable.
With Auston Matthews getting a new contract soon and Mitch Marner likely signing a new deal next offseason in the $12 million a year range, NHL trade rumors are making the rounds of a William Nylander for Noah Hanifin trade.
Leafs GM Brad Treliving has a great relationship with Noah Hanifin and rumors stating Hanifin would like to sign with an American team when his contract is up, could be put to bed if the Leafs brass can convince him to stay in Toronto.
What would it take for a Nylander for the Hanifin trade to be completed?
The trade would be straight up, William Nylander to Calgary for Noah Hanifin with a conditional second-round pick going to Toronto if Nylander re-signs in Calgary.
What are NHL fans saying about Noah Hanifin being traded to the Toronto Maple Leafs
Sign up for our weekly NHL trade rumors newsletter