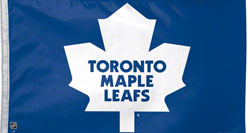 Mikhail Grabovski has been placed on unconditional waivers by the Toronto Maple Leafs for the purpose of buying out his contract.
Grabovski, 29, just finished playing out the first year of a five-year contract averaging $5.5 million a season.
In 48 games with the Leafs last season, he scored just nine goals and seven assists.
Two seasons ago, Grabovski set career highs with 29 goals and 58 points. In 367 career NHL games with the Maple Leafs and Montreal Canadiens he's scored 94 goals and 217 points.
Mikhail Grabovski Buyout