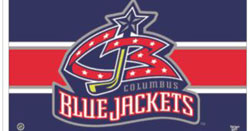 Matt Calvert of the Columbus Blue Jackets, has signed a two-year contract extension that will pay him almost $1 million a season through 2014-15.
The 23-year-old left wing is currently out with a broken index finger on his right hand and is expected to miss the club's final two regular-season games. He is one of the reasons the Blue Jackets are in the thick of the Western Conference playoff race, entering Tuesday's play in eighth place.
The native of Brandon, Manitoba, has nine goals and seven assists with 32 penalty minutes in 42 games in his third season with the organization. He was taken by Columbus with its fifth pick in the 2008 draft.
Matt Calvert contract – Matt Calvert trade rumors