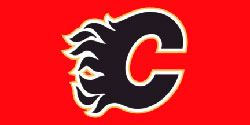 The Calgary Flames acquired Toronto Maple Leafs centre Joe Colborne for a conditional fourth-round pick in the 2014 draft.
Colborne was among the players fighting for one of the final spots on the Leafs roster but did not stand out in the pre-season.
Colborne, 23, joins a host of other young players who are expected to be given big minutes by the rebuilding Flames.
Jay Feaster statement:
"He fits in very well with our rebuild and provides size up the middle which we believe is critical going forward. The fact that he is from Calgary is an added bonus. We look forward to welcoming him to the Flames family."
Joe Colborne traded to Calgary