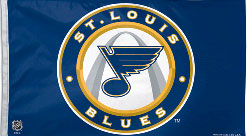 Jay Bouwmeester has agreed to a 5-year contract extension with the St. Louis Blues.
The deal is worth $27 million, an average annual value of $5.4 million.
Bouwmeester, who had one year left on his current deal, came over in a late- season trade with Calgary last April. He posted a goal and seven points in 14 games for the Blues before adding an assist in the first playoff action of his career.
Selected third overall by Florida in the 2002 NHL Entry Draft, the 29-year-old Bouwmeester has registered 72 goals and 235 assists in 764 career games.
Jay Bouwmeester contract