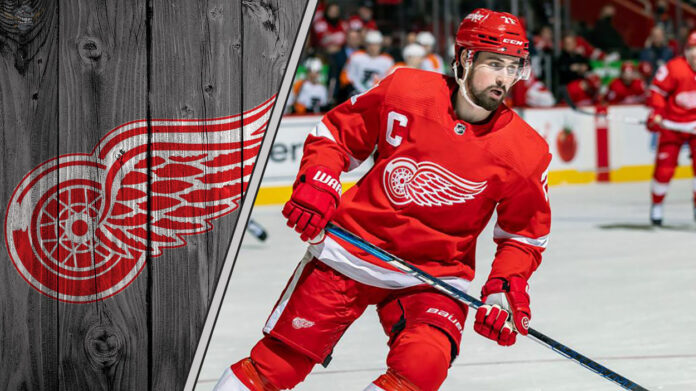 NHL trade rumors can be put to bed about the Detroit Red Wings trading their captain at the NHL trade deadline.
Dylan Larkin has signed an 8-year contract extension with the Detroit Red Wings worth $69.6 million, which equals out to an $8.7 million AVV.
The first five years of Larkin's contract comes with a full-no-move clause and the final three years turns into a modified no-trade clause where Larkin selects 10 teams he would want to be traded to.
Larkin, 26, was drafted 15th overall by the Detroit Red Wings in the 1st round of the 2014 NHL entry draft. Currently over a career that spans 8 seasons, he has a total 415 points in 563 games played, and 1 playoffs point in 5 games played.
Want to watch Dylan Larkin on TV? View the Red Wings game on TV tonight.
Dylan Larkin contract breakdown
| | | | | |
| --- | --- | --- | --- | --- |
| SEASON | CLAUSE | CAP HIT | BASE SALARY | TOTAL SALARY |
| 2023-24 | NTC | $8,700,000 | $10,000,000 | $10,000,000 |
| 2024-25 | NTC | $8,700,000 | $11,000,000 | $11,000,000 |
| 2025-26 | NTC | $8,700,000 | $10,000,000 | $10,000,000 |
| 2026-27 | NTC | $8,700,000 | $8,000,000 | $8,000,000 |
| 2027-28 | NTC | $8,700,000 | $8,000,000 | $8,000,000 |
| 2028-29 | M-NTC | $8,700,000 | $8,000,000 | $8,000,000 |
| 2029-30 | M-NTC | $8,700,000 | $7,500,000 | $7,500,000 |
| 2030-31 | M-NTC | $8,700,000 | $7,100,000 | $7,100,000 |
| TOTAL | | $69,600,000 | $69,600,000 | $69,600,000 |
What are Red Wings fans saying about the Dylan Larkin contract
Sign up for our weekly NHL trade rumors newsletter