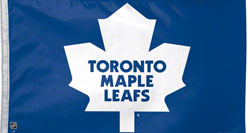 While the Edmonton Oilers have stockpiled attacking talent for the past few years in order to pack their offensive unit with high-calibre players, but the lack of defensive stability is beginning to hurt the franchise's hopes this season.
It has become painfully clear that top of the Oilers list will be a new goalie. With a record of five goals conceded per game and with just a single win to their name so far this season, Devan Dubnyk has become something of a liability to Edmonton.
He has already been replaced twice due to poor performances; a number of NHL betting outlets have suggested that the current season could be his last with the franchise.
All this has prompted speculation that the Oilers could be set to trade in a new goalie, with Toronto's James Reimer the name linked with Edmonton following Jonathan Bernier's sensational form for the Maple Leafs this season.
The 25-year-old has already racked up 50 NHL wins in three years in the league and would be a perfect fit for the Oilers if a move could be agreed with Toronto.
With the Maple Leafs needing a more physical presence on the front line and Edmonton looking for help in the net, a deal between these two NHL teams could help both sides as they look to make improvements and possibly both mount a Stanley Cup challenge.
Toronto will not be keen on losing a keeper of Reimer's ability but the goalie won't be willing to spend the next couple of years of his career sat on the bench.
While it's always good to have two solid keepers, making a deal for a scorer at center could strengthen the Maple Leafs even more and put the franchise right in contention for a championship in the NHL betting odds.
James Reimer trade rumors