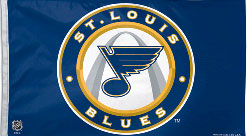 Goalie Brian Elliott has signed a three-year contract extension with the St. Louis Blues.
General manager Doug Armstrong said the team took a calculated risk acquiring Ryan Miller from Buffalo, hoping he could lead the franchise to its first Stanley Cup. But the Blues were eliminated in the first round of the playoffs.
Armstrong said the 29-year-old Elliott will compete for the starting job with Jake Allen, the team's top goalie prospect. He said the team met with Miller at the end of the season and again last week before deciding to move on.
Brian Elliott contract extension