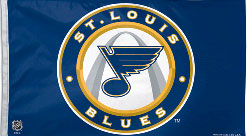 The St. Louis Blues have agreed to a US$17.4-million, three-year contract extension with forward Alex Steen.
Steen has 22 goals and 14 assists in 33 games this season.
The 29-year-old was set to be an unrestricted free agent this summer. Instead, he'll have a cap hit of $5.8 million over the next three seasons.
Alex Steen Contract