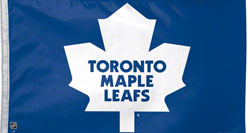 Toronto Maple Leafs VP of Hockey Operations, Dave Poulin, said they don't expect Nazem Kadri to be in training camp if he remain's unsigned.
Poulin said that they made a fair offer to Kadri and that it's plenty of money for him.
Rumors are going around that Kadri is thought to be looking for a long-term deal in the John Tavares range, six-years at $5.5 million per.
The Leafs are looking for a shorter term deal, in the P.K. Subban area, two-years at $2.875 million per season.
Nazem Kadri contract talks