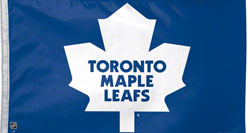 Tyler Bozak will be out for a lot longer than anticipated, as the Leafs have placed him on the long-term injured reserve list.
As per the National Hockey League's collective bargaining agreement, Bozak must remain there for a minimum of 10 games or 24 days.
The move is able to give the Maple Leafs some financial flexibility to move above the upper limit of this year's salary cap and allow them to move players between the NHL club and the Toronto Marlies of the AHL, but long-term injury may not provide full relief of the player's cap hit.
Tyler Bozak injury