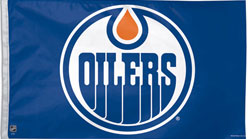 Ryan Nugent-Hopkins has signed a seven-year contract with the Edmonton Oilers.
Nugent-Hopkins got US$42 million, the same amount the Oilers gave Taylor Hall on his seven-year deal. The $6-million cap hit is also the same as Jordan Eberle's, making for uniformity among Edmonton's top young forwards.
Nugent-Hopkins, 20, is set to enter his third NHL season. As a rookie, he posted 18 goals and 52 points in 62 games. He followed up with four goals and 24 points in 40 games last season and had season-ending shoulder surgery in April.
Ryan Nugent-Hopkins contract