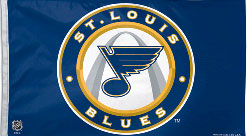 Ryan Miller has settled nicely with the St. Louis Blues. The Blues have let Ryan Miller's agent, Mike Liut, know they'd like to re-sign him.
Miller likes it in St. Louis but he would like to explore free agency and see if there is a fit with the Anaheim Ducks.
Miller's wife is an actress and the Ducks are the preferred location. Only issue is the Ducks have goalies Frederik Andersen, John Gibson and pending UFA Jonas Hiller.
If Miller is told there is no interest from the Ducks, he will re-sign with the Blues.
Ryan Miller wants to be an Anaheim Duck