Welcome to our annual NHL Playoff predictions 2023 edition.
Now that the NHL trade deadline has passed and playoff contending teams have made their playoff push trades, it is time to look at some fun NHL playoff projections 2023. The NHL playoff bracket above could change as teams could rise or fall in the standings that will affect the matchups.
All you Toronto Maple Leafs haters will laugh at the predictions below but they are serious Stanley Cup contenders with the moves they made. They will make it past the first round and continue all the way to the Stanley Cup Finals. The big question is, can their goaltending hold up?
The Boston Bruins have dominated the NHL this year, but they will stumble in the 2nd round of the playoffs against the Leafs. With the B's losing Taylor Hall, that is a HUGE blow to the team.
The Carolina Hurricanes will methodically get by the first and second round of the playoffs with their structured team play. Even with all the moves the New York Rangers made, it will not be enough to get by Carolina.
In the Western Conference, Connor McDavid will lead them to the Conference finals once again, but will lose to a healthy Colorado Avalanche team.
Vegas owner Bill Foley will be once again be distraught over his team losing in the first round to the LA Kings.
The Dallas Stars are almost there and if goalie Jake Oettinger stands on his head, he could lead the team to the Western Conference final.
There are still 20 games remaining in the season so seeding can change which could affect the NHL playoff predictions 2023 below.
NHL Playoff projections below have been updated as of April 14, 2023.
For NHL Playoff rules click here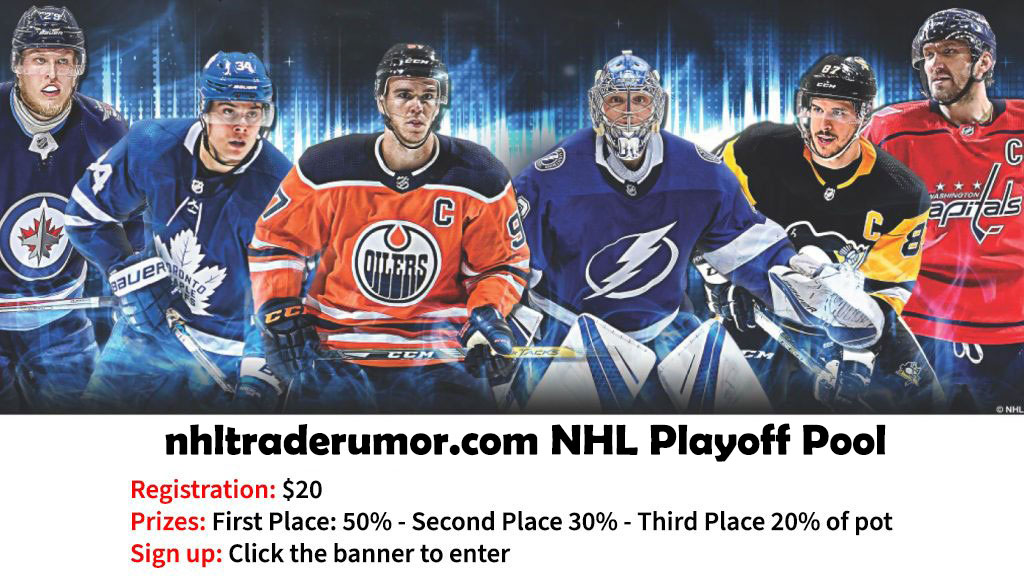 NHL Playoff Predictions 2023 | NHL Playoff Bracket 2023
Playoff Round 1
#1 seed Boston Bruins vs #8 seed Florida Panthers Boston wins (4-2)
#2 seed Carolina Hurricanes vs #7 seed New York Islanders Hurricanes win (4-3)
Metropolitan Division Match-up
#2 New Jersey Devils vs #3 New York Rangers Rangers win (4-3)
Atlantic Division Match-up
#2 Toronto Maple Leafs vs #3 Tampa Bay Lightning Leafs win (4-2)
Playoff Round 2
Carolina Hurricanes vs New York Rangers Rangers win (4-2)
Boston Bruins vs Toronto Maple Leafs Leafs win (4-3)
Eastern Conference Finals
Toronto Maple Leafs vs New York Rangers Leafs win (4-2)
WESTERN CONFERENCE NHL PLAYOFFS 2023
Playoff Round 1
#1 seed Vegas Golden Knights vs #8 seed Winnipeg Jets Vegas wins (4-1)
#2 seed Colorado Avalanche vs #7 seed Seattle Kraken Colorado wins (4-2)
Central Division Match-up
#2 Dallas Stars vs #3 Minnesota Wild Minnesota wins (4-3)
Pacific Division Match-up
#2 Edmonton Oilers vs #3 LA Kings Edmonton wins (4-2)
Playoff Round 2
Colorado Avalanche vs Minnesota Wild Colorado wins (4-2)
Vegas Golden Knights vs Edmonton Oilers Edmonton wins (4-3)
Western Conference Finals
Colorado Avalanche vs Edmonton Oilers Edmonton wins (4-3)
STANLEY CUP FINALS PREDICTION 2023
Toronto Maple Leafs vs Edmonton Oilers Toronto Wins (4-2)
The Toronto Maple Leafs win the Stanley Cup 2023 edition. It will be the first Stanley Cup win since 1967.
Remember these are only fun predictions and a lot can change with injuries, team chemistry and NHL trade deadline moves.