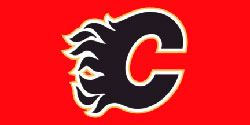 Mark Giordano is out for six to eight weeks with a broken ankle. He took a shot off the right ankle against the Los Angeles Kings on Oct. 21.
"It's brutal," Giordano said. "You don't want to miss any time, but if you have to you're hoping it's something not as significant as that time frame."
Giordano says an initial scan of his ankle after the Kings game didn't reveal a fracture. He tried to skate the next day in Phoenix prior to facing the Coyotes, but pain forced him off the ice. A subsequent scan revealed the injury.
Mark Giordano broken ankle