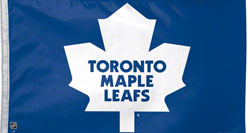 The Toronto Maple Leafs are actively shopping John-Michael Liles and they are willing to retain a significant portion of Liles's salary for the remainder of his contract to encourage a trade.
Liles, currently with the AHL's Toronto Marlies, carries a $3.875 million cap hit through 2015-2016.
He has a modified no-trade clause, which includes a list of 12 teams, submitted during the summer, that he would accept a trade to. However, at this point, Liles is more than willing to consider all NHL interest.
John-Michael Liles Rumors