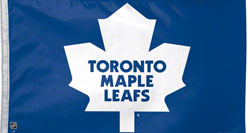 With Brian Burke joining the Calgary Flames as the new president of hockey operations, he will be looking to make changes to the team asap.
With Mikka Kiprusoff retiring, the Flames first need is goaltending. And Burke will want to target James Reimer of the Toronto Maple Leafs. With the Leafs signing Jonathan Bernier, Reimer is looking at a backup goaltender role, which he does not want.
The Flames current goalies are Karri Ramo and Joey Macdonald. Burke will not want to go into the 2013 – 2014 NHL season with Ramo and Macdonald.
You can expect GM Jay Feaster to be calling GM Dave Nonis about the availability of James Reimer.
James Reimer Trade Rumors