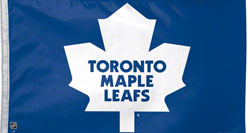 James Reimer has started the NHL season well with a 7-4-1 record and a 2.63 GAA.
Leafs management know they have to trade Reimer if they want to acquire the help they need this season.
Several teams around the NHL could use Reimer, including Edmonton and Nashville.
The Edmonton Oilers have some great young players with terrific skills on the offensive end of the ice and the Nashville Predators also have the resources to make a trade.
If the Leafs continue to loose games, look for GM Dave Nonis to trade Reimer soon rather than later.
James Reimer Rumors