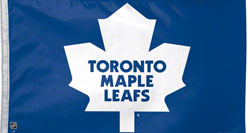 The Toronto Maple Leafs have announced they have signed general manager Dave Nonis to a five-year contract extension.
"Ownership and management felt it was critical to extend David now for a lengthy period of time and to reward him for the progression of the Leafs and Marlies," said Maple Leaf Sports & Entertainment President and Chief Executive Officer Tim Leiweke in a statement.
"This extension will allow David the time to build his kind of team to produce steady results, year after year. Everyone is excited about his ability and grasp of the NHL landscape and today's new contract agreement will offer the Leafs consistency and a long-term vision."
Nonis, 47, became the 15th general manager in Toronto franchise history when he was named to the post on January 9. The Leafs advanced to the playoffs for the first time since 2004 by securing the fifth seed in the Eastern Conference by virtue of their 57 points earned in the 48-game regular season. He originally joined the Leafs in the role of senior vice president of hockey operations on December 6, 2008.
Dave Nonis contract Extension