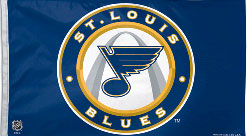 The St. Louis Blues Chris Stewart name is the hot name on the trade rumors mill.
There were rumors that the New York Rangers and Ottawa Senators have inquired.
Stewart has another year left at $4.2 million, which may appeal to some teams who don't want to pay the rental price for Thomas Vanek, Matt Moulson and Mike Cammalleri.
The Blues are deep up front and have some RFAs they'll need to give raises, so Stewart is the odd man out.
Chris Stewart rumors