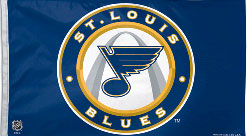 Brenden Morrow has signed a 1-year contract worth $1.5 million with the St. Louis Blues.
Morrow, 34, scored 12 goals and 13 assists in 44 games with the Pittsburgh Penguins and Dallas Stars in 2012-13.
Morrow was traded to Pittsburgh prior to the NHL trade deadline along with a third-round pick, in exchange for Joe Morrow and a fifth-round pick in 2013.
Brenden Morrow contract