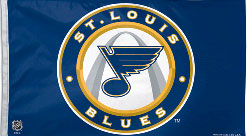 Multiple news outlets are reporting that St. Louis Blues goaltender Jaroslav Halak and coach Ken Hitchcock "had a heated disagreement outside the club's locker room" in the morning before Game 4.
Halak was late for a meeting, then vented about lack of ice during the season. Halak was unhappy about not getting into the last game of the season after returning from a groin injury. Halak's unhappiness was noted by the organization as early as Game 1, as he wasn't giving full effort during their morning skate.
He has only one year left on his deal with a $4.5 million salary and $3.75 million cap hit. The Team is letting teams know that Halak is available for a trade as the Blues are looking at making Jake Allen their #1 goalie next year.
This is news that GM Mike Gillis does NOT want to hear as Halak is a much cheaper goaltending option then Roberto Luongo.
Jaroslav Halak trade rumors