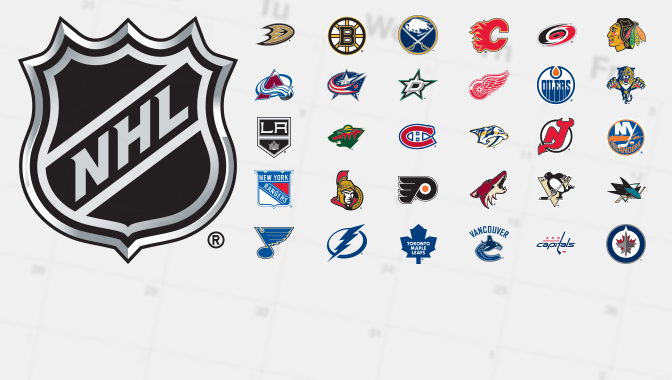 Here are PuckMePlease.com's early 2015 – 16 NHL regular season and playoff predictions.
The Edmonton Oilers and Buffalo Sabres are getting close to being playoff contenders but I feel they are not there yet. The Boston Bruins will miss the playoffs again and the Columbus Blue Jackets and Detroit Red Wings will fight for the last wild card spot. Right now I have Detroit getting in, but Columbus will be right there.
Arizona, Toronto, New Jersey and Carolina will fight for the worst record overall and have the greatest chance to draft Austin Matthews in the 2016 entry draft.
(WC) = Wild Card Team
(MP) = Misses Playoffs
NHL 2015-2016 Regular Season Predictions

Eastern Conference
Western Conference
Metropolitan Division
Atlantic Division

Central Division

Pacific Division

Pittsburgh Penguins
Tampa Bay Lightning
Chicago Blackhawks
Anaheim Ducks
Washington Captails
Montreal Canadiens
Colorado Avalanche
Calgary Flames
New York Rangers
Ottawa Senators
Winnipeg Jets
Vancouver Canucks
New York Islanders (WC)
Detroit Red Wings (WC)
Minnesota Wild (WC)
Edmonton Oilers (MP)
Columbus Blue Jackets (MP)
Boston Bruins (MP)
St. Louis Blues (WC)
LA Kings (MP)
Philadelphia Flyers (MP)
Buffalo Sabres (MP)
Dallas Stars (MP)
San Jose Sharks (MP)
Carolina Hurricanes (MP)
Florida Panthers (MP)
Nashville Predators (MP)
Arizona Coyotes (MP)
New Jersey Devils (MP)
Toronto Maple Leafs (MP)
2016 NHL Playoff Predictions



Eastern Conference
Western Conference

Playoff Round 1

Winner

Playoff Round 1

Winner
Tampa Bay Lightning
vs
Detroit Red Wings
Tampa (4-2)
Anaheim Ducks
vs
St. Louis Blues
Anaheim (4-1)
Pittsburgh Penguins
vs
New York Islanders
Pittsburgh (4-3)
Chicago Blackhawks
vs
Minnesota Wild
Chicago (4-2)
Montreal Canadiens
vs
Ottawa Senators
Division Match-up:
# 2 seed versus #3
Ottawa (4-3)
Calgary Flames
vs
Vancouver Canucks
Division Match-up:
# 2 seed versus #3
Calgary (4-3)
Washington Capitals
vs
New York Rangers
Division Match-up:
# 2 seed versus #3
Washington (4-2)
Colorado Avalanche
vs
Winnipeg Jets
Division Match-up:
# 2 seed versus #3
Winnipeg (4-2)
Eastern Conference
Western Conference

Playoff Round 2

Winner

Playoff Round 2

Winner
Tampa Bay Lightning
vs
Ottawa Senators
Tampa (4-2)
Chicago Blackhawks
vs
Winnipeg Jets
Winnipeg (4-3)
Pittsburgh Penguins
vs
Washington Capitals
Washington (4-3)
Calgary Flames
vs
Anaheim Ducks
Anaheim (4-1)
Eastern Conference
Western Conference

Playoff Round 3

Winner

Playoff Round 3

Winner
Tampa Bay Lightning
vs
Washington Capitals
Tampa (4-3)
Winnipeg Jets
vs
Anaheim Ducks
Anaheim (4-2)
Stanley Cup
Winner
Tampa Bay Lightning
vs
Anaheim Ducks
Tampa Bay Lightning (4-2)


nhl playoff predictions 2015-16