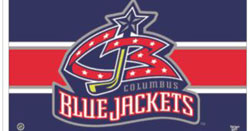 Nick Foligno may miss the final six games of the regular season with a lower-body injury, leaving the Columbus Blue Jackets without one of their leaders in the thick of a playoff race.
Foligno has 18 goals, 21 assists and a plus-5 rating in 70 games. He was hurt late in Thursday night's 2-0 victory at Philadelphia when he banged knees with Flyers forward Scott Hartnell.
Coach Todd Richards says it's "more than likely" Foligno will miss the rest of the team's regular-season games. Matt Frattin was set to take his place in the lineup Friday night against Chicago.
Nick Foligno injured