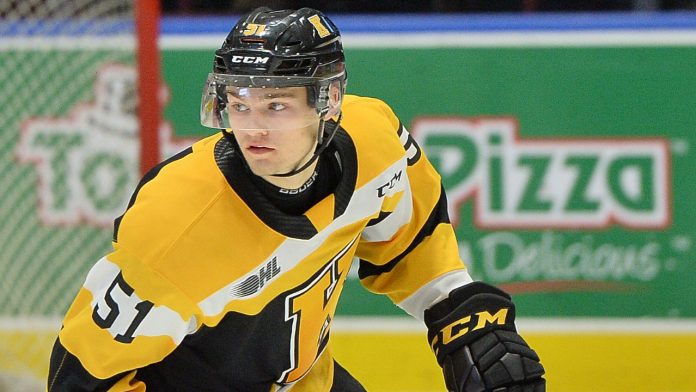 The top 50 NHL Prospects 2022 has a forward heavy top 10. Shane Wright is projected to go #1 in the 2022 NHL draft.
Wright has long been regarded the crown jewel of this year's prospect class, but teams looking for help up front have plenty of intriguing players to monitor this season.
The Kingston Frontenacs centre continues to be the clear leader of what is shaping up to be a forward-heavy top 10.
Source: TSN
Top 50 NHL prospects 2022
| RK | Player | Team | POS | HT | WT |
| --- | --- | --- | --- | --- | --- |
| 1 | Shane Wright | Kingston (OHL) | C | 6'0 | 188 |
| 2 | Logan Cooley | USA U-18 (USHL) | C | 5'10 ¼ | 168 |
| 3 | Joakim Kemell | JYP (SM Liiga) | RW | 5'11 | 176 |
| 4 | Juraj Slafkovsky | TPS (SM Liiga Jr.) | C | 6'4 | 216 |
| 5 | Matt Savoie | Winnipeg (WHL) | C/RW | 5'9 | 177 |
| 6 | Simon Nemec | Nitra (SVK) | D | 6'1 | 192 |
| 7 | Danila Yurov | Magnitogorsk (KHL) | RW | 6'1 | 178 |
| 8 | Ivan Miroshnichenko | Omsk (VHL) | LW | 6'1 | 185 |
| 9 | Jonathan Lekkerimaki | Djurgardens (SWE J-20) | RW | 5'10 ½ | 165 |
| 10 | Ty Nelson | North Bay (OHL) | D | 5'10 | 185 |
| 11 | Conor Geekie | Winnipeg (WHL) | C | 6'2 ½ | 205 |
| 12 | Liam Öhgren | Djurgardens (SWE J-20) | LW | 6'0 | 187 |
| 13 | David Jiricek | Plzen (CZE) | D | 6'3 | 189 |
| 14 | Frank Nazar | USA U-18 (USHL) | C/RW | 5'10 | 169 |
| 15 | Alexander Perevalov | Yaroslavl (MHL) | LW | 6'0 | 191 |
| 16 | Jimmy Snuggerud | USA U-18 (USHL) | RW | 6'1 ¼ | 186 |
| 17 | Brad Lambert | JYP (SM Liiga) | RW | 6'0 | 164 |
| 18 | Rutger McGroarty | USA U-18 (USHL) | C | 6'0 ¾ | 199 |
| 19 | Nathan Gaucher | Quebec (QMJHL) | C/RW | 6'2 ¾ | 188 |
| 20 | Filip Mesar | Poprad (SVK) | RW | 5'10 | 167 |
| 21 | Cutter Gauthier | USA U-18 (USHL) | LW | 6'2 | 189 |
| 22 | Arseni Koromyslov | St. Petersburg (MHL) | D | 6'3 | 180 |
| 23 | Calle Odelius | Djurgardens (SWE J-20) | D | 5'11 ¼ | 185 |
| 24 | Bryce McConnell-Barker | Sault Ste. Marie (OHL) | C | 6'2 | 182 |
| 25 | Danny Zhilkin | Guelph (OHL) | C/LW | 6'0 | 185 |
| 26 | Aleksanteri Kaskimaki | HIFK (SM Liiga Jr.) | C | 5'11 ½ | 181 |
| 27 | Kevin Korchinski | Seattle (WHL) | D | 6'2 | 175 |
| 28 | Isaac Howard | USA U-18 (USHL) | LW | 5'9 ¾ | 178 |
| 29 | Marco Kasper | Rögle (SHL) | C | 6'1 | 183 |
| 30 | Matthew Poitras | Guelph (OHL) | C | 5'11 | 178 |
| 31 | Simon Forsmark | Orebro (SWE J-20) | D | 6'2 | 191 |
| 32 | Jack Hughes | Northeastern (NCAA) | C | 5'11 | 165 |
| 33 | Rieger Lorenz | Okotoks (AJHL) | LW | 6'1 ½ | 184 |
| 34 | Gleb Trikozov | Omsk (MHL) | RW | 6'1 | 185 |
| 35 | Jiří  Kulich | Karlovy (CZE) | C | 5'11 ½ | 172 |
| 36 | Jani Nyman | Ilves (SM Liiga Jr.) | RW | 6'2 ¾ | 212 |
| 37 | Alexander Suzdalev | HV 71 (SWE J-20) | LW | 6'2 | 172 |
| 38 | Lane Hutson | USA U-18 (USHL) | D | 5'7 | 140 |
| 39 | Jordan Gustafson | Seattle (WHL) | C/LW | 5'11 | 175 |
| 40 | Seamus Casey | USA U-18 (USHL) | D | 5'9 ¾ | 162 |
| 41 | Paul Ludwinski | Kingston (OHL) | LW | 5'11 | 172 |
| 42 | Artyom Duda | Moskva (MHL) | D | 6'1 | 180 |
| 43 | Tristan Luneau | Gatineau (QMJHL) | D | 6'1 | 170 |
| 44 | Ryan Chesley | USA U-18 (USHL) | D | 6'0 ¼ | 187 |
| 45 | Antonin Verreault | Gatineau (QMJHL) | LW | 5'7 | 157 |
| 46 | Hunter Haight | Barrie (OHL) | C/RW | 5'11 | 170 |
| 47 | Elias Salomonsson | Skellefteå (SWE J-20) | D | 6'0 | 172 |
| 48 | Filip Bystedt | Linköping (SWE J-20) | C | 6'2 ½ | 187 |
| 49 | Maverick Lamoreux | Drummondville (QMJHL) | D | 6'5 | 181 |
| 50 | Ruslan Gazizov | London (OHL) | RW | 5'11 | 185 |