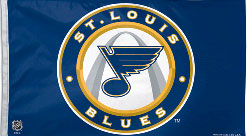 Maxim Lapierre whas been suspended for five games without pay by the NHL for boarding San Jose Sharks defenceman Dan Boyle.
Lapierre was assessed a major penalty for checking from behind and a game misconduct in the first period of the Blues' 6-2 home loss. He served the first game of the suspension while awaiting an in-person hearing Friday.
The suspension will cost Lapierre $28,205.
Boyle was knocked out on the play, taken off the ice on a stretcher and spent the night in a hospital. He missed the Sharks' 4-3 shootout loss in Dallas on Thursday night.
Maxim Lapierre suspended